TBD
T-Shirt Design Contest
CONTEST INFORMATION:
The contest is held January through March for students who are residents of Worth County in grades Pre-K-12.
The 2020 finalists are listed below:
Bailey Suggs "Worth the Love"
Bailey Suggs "Treasures Worth Keeping"
Julia Sandlin "The Perfect Blend of Old & New"
Brentley Kilcrease "Worth the Work to Work Together"
The winner is……….Julia Sandlin! Congratulations!!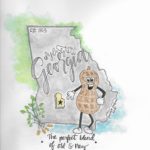 5K Run DATE FORTHCOMING
TBD Charity Golf Tournament Event
12:00 PM Sign In
1:00 PM Tee Off
TBD
$20 Wrist Band for Prime Time Amusement Carnival
TBD Festival Preview
TBD Annual Georgia Peanut Festival
Live Entertainment Featuring:
TBD
TBD
5:00 PM Georgia Peanut Festival Pets and Pals Parade
Registration and Line up 5 PM