At 10 a.m. the famous Peter Pan Peanut Butter Parade begins! Bands, clowns, cars, local celebrities, politicians, beauty queens, and floats line the streets of downtown Sylvester. This is a parade that you do not want to miss!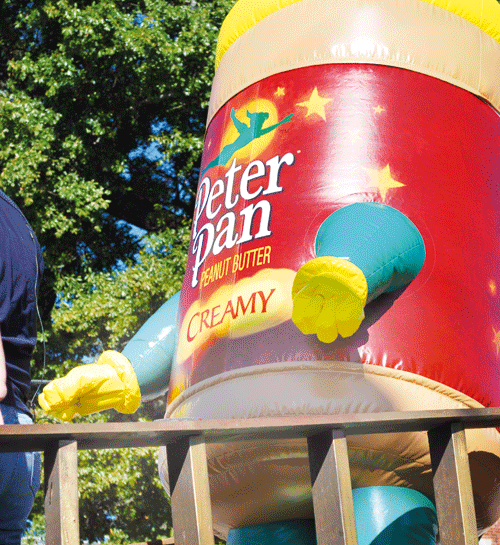 Dear Parade Applicant:
We are excited that you are interested in participating in the Annual Peter Pan Peanut Butter Parade which will be held on the 3rd Saturday of October in downtown Sylvester beginning at 10 a.m.
Applications for the Peter Pan Peanut Butter Parade will be available during the week of August 5th. This year, applications can be downloaded and returned by mail along with your check. In an effort to reduce costs, no applications will be mailed; however, you may pick up your application at the Sylvester-Worth Chamber of Commerce or download them.
Please read the application and parade rules carefully. Cutoff date for entries will be October 10th.
Professional float rental is available for $550. If you are interested in a renting a professional float, please contact us at parade@gapeanutfestival.org to make arrangements.
-| Download 2019 Professional Float Rental |-
In certain categories, entries will be limited and applications are accepted on a first-come, first-serve basis. Once the signed contract and funds are received, we will let you know in a timely manner if your application has been accepted.

The Georgia Peanut Festival Committee reserves the right to accept or reject any parade application based on the policies and procedures set forth by the committee.

We look forward to hearing from you soon!!!
The Georgia Peanut Festival Committee
---
Peter Pan Peanut Butter Parade Award Categories:
Best In Theme Award (Commercial Float): Professional float that scores the highest
Best In Theme Award (Amateur Float): Homemade float that scores the highest
Community Spirit Entry Award: Can be any entry that combines community spirit with the theme of the festival
Best Business Entry Award: Business entry that scores the highest on "Consistency of Theme". This entry should incorporate advertising for their company and the festival's theme
Entries will be judged on the following:
Care and effort in the entry's preparation – The amount of work that has gone into putting the entry together
Consistency of theme – How well the entry has tried to incorporate elements of the festival's theme: "Happiness is Peanut Shaped"
Originality – Based on creativity
Presentation – This includes appearance, behavior of participants and how well the entry promotes the group it is representing